Just how fast is the Traxxas Blast?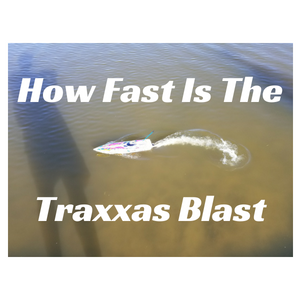 Howdy friends and welcome back to R/C Insiders!
One of our favorite things to do around here is help people with any and all questions they have about remote control vehicles.
One of the most common inquiries we receive is how fast certain RC's are.
Well… We are very excited to start our new midweek YouTube series where we will be doing speed tests on every RC vehicle we can get our hands on.
In this post, we will kick off the series with one of our favorite RC boats, the Traxxas Blast.
These speed runs were conducted with the stock 7.2V – 3,000mAh NIMH battery that comes with the Blast. You can upgrade batteries that will increase speeds, all the way up to a 3 S Lipo battery.
We have not tried 3 S Lipo and do not recommend you do either, unless you are willing to upgrade the electronic speed control as well. We have heard some horror stories of melting ESC's with the 3 S Lipo.
Please enjoy the video below where we take the Blast out for a little bash and break out the Bushnell Radar Gun for some speed tests.
---
How Fast Is The Traxxas Blast?
---
How Fast Is The Traxxas Blast? – Wrap It Up!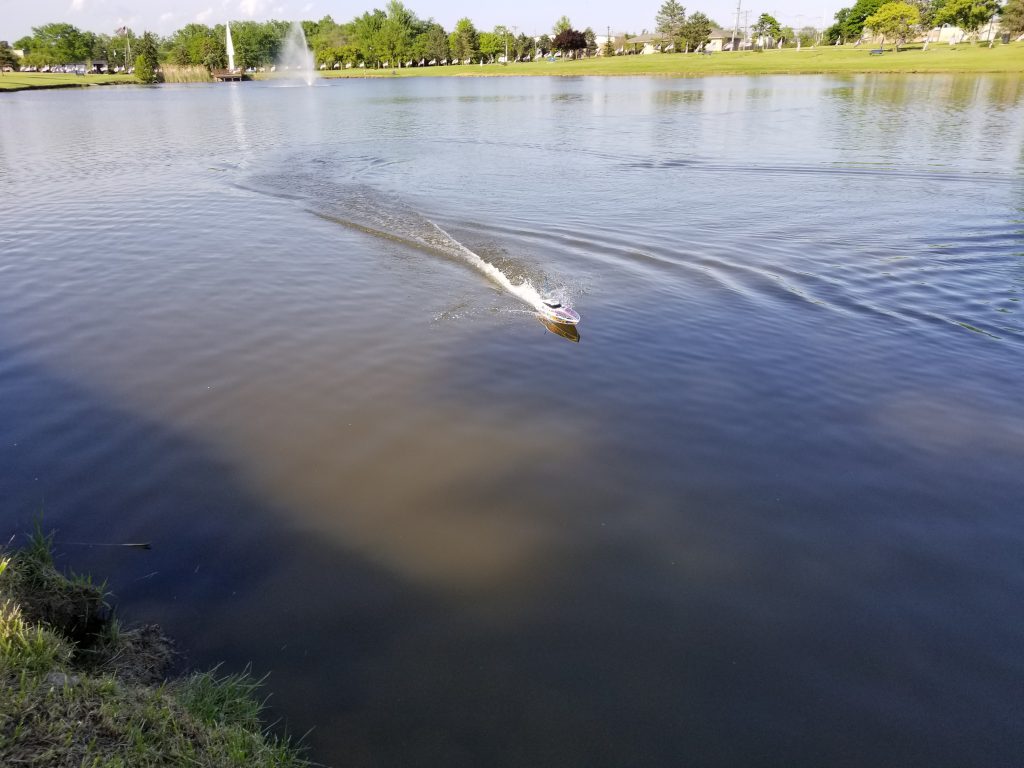 We have been bashing the Blast around for a while now and we are happy to say that it is still performing as  well as the day we first launched it.
While the Blast is not the fastest RC boat you can get, it is one of the most durable.
Here is the breakdown of the Traxxas Blast Speed runs:
13 mph
12 mph
11 mph
11 mph
12 mph
12 mph
14 mph
We recently ran across a $10 propeller upgrade that is supposed to get the Blast over the 20 mph threshold.
Stay tuned to our YouTube channel for updates. As soon as we get the propeller installed, we will get the Blast back out to the pond and put the new prop to the test.
You can also Check Out Our Traxxas Blast UnbBoxing Video Here
And See Our Traxxas Blast Review & Demo Video Here
If you have been considering entering the world of hobby grade RC boats, we have no problem whatsoever recommending you give the Traxxas Blast some consideration.
Buying a brand like Traxxas means you will always have available support, a readily available line of replacement parts and a full line of easy to do upgrades.
We will be sure to let you all know how the new propeller works out, so check back in soon.
---
We hope you enjoyed this post and that we helped you answer the question – How Fast Is The Traxxas Blast?
If you have any other questions about the Blast or any other RC vehicle, parts & upgrades or anything else, please leave a comment below and we will get back with you right away.
You can also contact us via email with the contact tab in the menu.
P.S. Don't forget to subscribe to our YouTube Channel for a chance to win free stuff!!! 🙂
Thanks for stopping by ~ R/C Insiders