Looking for some cool birthday gifts for kids?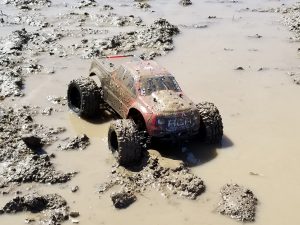 Coming up with cool birthday gift ideas for kids can be difficult.
Luckily, I have spent the last 30+ years buying gifts for kids and would love to share some of our favorites.
What I have learned is this:
The latest and greatest toys don't always mean the best toys.
A good birthday gift is a gift that gets kids outside
A good birthday gift is a gift that can teach something
And the best birthday gifts are gifts that allow kids to spend time with someone they love to be with.
This awesome world of remote control that we have spent years enjoying, has allowed me to not only enjoy a great hobby, it has also allowed me to spend time with my kids…Quality time.
We have learned many things along the way. From upgrading parts, to making repairs due to the inevitable crashes, to learning how to make this website, the R/C hobby has has given us a true learning experience that we have all enjoyed.
Below you will find some of the coolest birthday gifts for kids that I wish I'd had.
We'll start out small and then work our way up to the ultimate birthday gift for kids. 🙂
---
Cool Birthday Gifts For Kids I Wish I'd Had
Here are some of the coolest birthday gifts on the planet!
Rage Spinner Missile Electric Rocket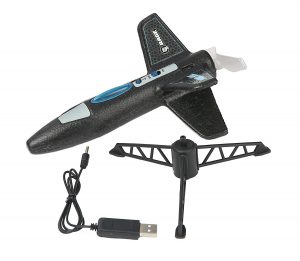 As a kid, I was always fascinated with rockets.
The Rage Spinner Missile comes 100% ready to fly, right out of the box.
You can expect anywhere between 30 – 40 launches on a single charge.
The Spinner Missile can reach as much as 50′ into the air when launching in high altitude mode, or 25′ in low altitude mode.
When launched, the missile spins at a high rate of speed, making the LED lights look really cool.
We have hundreds of Spinner Missile launches under our belt and the missile is still going strong.
The Rage Spinner Missile Electric Rocket is a cool gift any kid would love.

---
Sky Viper m550 Nano Drone
The Sky Viper m550 Nano Drone zips around with a surprising amount of speed and agility for a drone at its price.
The drone features auto and manual flight modes.
In auto mode you are able to hover and focus your attention on moving forward and backward without worrying about losing altitude. Manual mode gives you full control of all functions.
There are 8 cool stunts you can do including barrel rolls and flips.
The Sky Viper is a cool drone for any level pilot that delivers around 20 minutes of fun flight time with each charge.
We have had a great time with the Sky Viper. The only thing we have had to replace is a couple of blades, even after a few awesome crashes!
This is a perfect starter drone that will allow you to learn the ins and outs of the world of drones before you move on to more capable
UAV's
.

---
Redcat Racing Cyclone XB10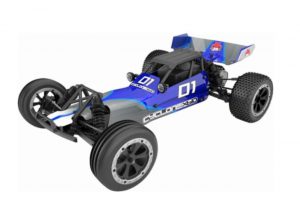 The Cyclone XB10 tops our list as the best value for RC buggies in the under $200 & $150 class.
Reaching speeds of 20+ MPH right out of the box, the Cyclone is an all terrain, waterproof go just about anywhere RC buggy.
The Cyclone comes ready to run, with 2 batteries and charger.
We have been running the XB10 for a long time now and have not had to replace anything.
The Redcat Racing Cyclone XB10  is the absolute perfect first buggy to introduce anyone into the awesome world of hobby grade remote control vehicles.
Check Out Our Full Redcat Racing Cyclone XB10 Review Here
We love the Redcat Racing Cyclone XB10 and know it will make a cool gift for kids…Or anyone else. 🙂

---
Traxxas Blast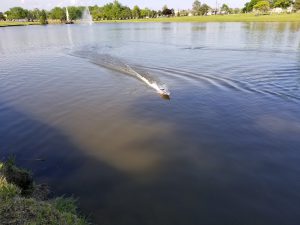 O.K. I gotta say it…We have had an absolute blast bashing around the pond with the Traxxas Blast!
The Blast is a large 1/10 scale race boat designed to perform to the highest standards.
At 24″ long, the Blast is much larger than most RC boats you pick up at you local big box store and has performed beyond our expectations.
We did our best to try and flip it, but were unsuccessful. 🙂
With waterproof electronics, water cooled motor and watertight receiver box, the Traxxas Blast provides tons of fun for anyone.
The Blast comes ready to run, right out of the box.
We have thoroughly enjoyed spending time with the Traxxas Blast and know it will make a cool Birthday gift for any kid. I love it and I know they will too. 🙂
Redcat Racing Volcano EPX 4×4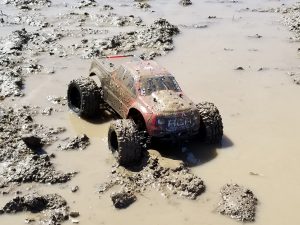 If you're willing to give up a few MPH worth of speed compared to the Cyclone XB10 above, then we think you will love the added awesomeness of 4 wheel drive!
The Redcat Racing Volcano EPX 4×4 is the most capable RC truck we have reviewed in this price range.
Sticking with its hobby grade status, the Volcano features waterproof electronics and plenty of room for upgrades.
We have put the Volcano through some pretty tough scenarios and it keeps coming out shining like a star…Well, except for all that awesome mud!! 🙂
Check Out Our Full Redcat Racing Volcano EPX 4×4 Review Here
The Volcano EPX is a cool gift for kids that promises unlimited outdoor adventures!

---
Traxxas Slash
If you have ever looked into the world of hobby grade RC vehicles, you have probably heard the name Traxxas.
The Slash has definitely earned its spot for our top RC its price range.
The Traxxas Slash is a 1/10 scale, waterproof, short course racing truck that is built to withstand some of the most adverse conditions you can think of. And believe me, we have tried most of them.
When you get this thing home, you are going to be pleasantly surprised at just how big and substantial the Slash really is.
Once they pull the trigger and the Slash roars to life, you will know that you have officially entered the world of hobby grade RC. 🙂
Check Out Our Full Traxxas Slash Review Here
With a huge line of upgrade and replacement parts, the Traxxas Slash promises endless opportunities for adrenaline pumping fun that will make a cool gift for kids and adults alike!

---
DJI Mavic Pro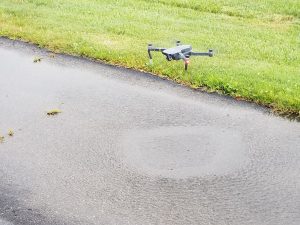 We are gonna go ahead and call the DJI Mavic Pro the ultimate cool gift for kids!
We here at RC Insiders love drones. We love small drones, big drones, racing drones…Any drone.
But nothing so far has impressed us as much as the Mavic Pro.
Fly as far as 4.6 miles away and shoot video in true 4k. The Mavic features a 3 axis stabilization gimbal that keeps your videos smooth, even in windy conditions.
With sensors on the front and bottom of the drone, the Mavic Pro can detect obstacles in it's path as far away as 49′. This is an awesome feature that really helps protect your investment.
Connect with your Apple or Android device to see in real time exactly what the drone sees and keep track of your flight time and distance.
The Mavic gives you all kinds of info during flight including:
Altitude
Distance
Speed
Wind warnings
Battery life remaining on the drone and controller
Air space warnings
The Mavic is in constant communication your controller and device.
Never worry about losing your drone. The Mavic Pro features a "Return To Home" function that you can initiate anytime during flight.
The Mavic knows where it is at all times and knows its own battery life. Should communication be lost, or you reach the point of no return with your battery, the Mavic will initiate its own return to home!
Check out our Mavic Pro Review with the video below.
Now, this drone may seem a little advanced for younger kids and you are right. But with good adult supervision, the Mavic is actually easier to fly than any other drone we have reviewed.
Just make sure whoever the lucky kid is that's getting this super cool gift will be supervised until they can handle the responsibility on their own.
We absolutely Love the Mavic Pro and we know you, and that super lucky kid, will love it too. 🙂
Make sure to check back in as we will be adding gift ideas from time to time.
If you have any questions about any of these gifts, please leave a comment below, or hit the contact tab in the menu, and we will get back with you a.s.a.p.
Thanks for stopping by & happy off – roading!
~RC Insiders