"Hey guys, how fast is the Traxxas Slash? We have been searching everywhere, but can't find anything definitive."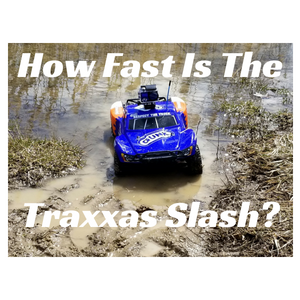 Hi friends and welcome back to RC Insiders!
In today's post we are continuing our series of speed tests, and today the Traxxas Slash is on the docket.
We are always fielding questions when we're not out bashing and one of the most common questions we see is about speed.
While speed is only one factor we consider when reviewing R/C vehicles, we know it is important to a lot of people.
As we move forward with our speed test series, we plan on testing every vehicle we can get our hands on! Whether its R/C trucks, cars, buggies, boats or drones, if we can get our hands on it, we will put it to the speed test.
Always remember that you can check out our RC Insiders YouTube Channel to see our latest speed tests. As much as I LOVE writing posts for the website, it can be very time consuming.
It often times takes a couple weeks for us to get caught up, so stop by and subscribe to our channel to get notifications when we make a new video.
This is a completely stock Traxxas Slash 2wd.
Please enjoy the video below as we take Slash out for a few speed runs.
---
How Fast Is The Traxxas Slash?
---
How Fast Is The Traxxas Slash – That's A Wrap!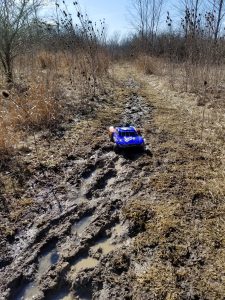 We fell in love with the Slash from the moment it arrived on our doorstep.
We have bashed it, sank it, froze it, flipped it and rolled it more times than I can count.
These speed runs were done with everything stock and the way it comes out of the box. The Slash comes with an extra pinion gear for top speed runs in the 30 mph range.
We will go ahead and switch out the gears and do another video soon to see if we can hit that speed.
Here is the breakdown of the Traxxas Slash speed runs:
19 mph
20 mph
20 mph
20 mph
19 mph
20 mph
If you have the need for speed, Traxxas has tons of upgrades for the Slash, so you will never run out of cool things you can do with it.
The Slash is a true hobby grade RC that will not disappoint.
Stay tuned to our YouTube channel for updates. We will get the Slash back out for some more speed runs as soon as we get the pinion gear installed.
Tip: If you're plans are to just do some general fun bashing, leave the original pinion gear on. The pinion gear the Slash comes with gives you a lot more torque for the mud trails and hill climbing.

If you plan to run all out on flat level surfaces for top speed, go ahead and give the bigger gear a try.
You can Check Out Our Traxxas Slash Review Video Here
You can Read Our Full In Depth Review Here
And also Check Out Our FPV Traxxas Slash Bash Here
If you have been considering the Slash, we have no problem at all recommending you get one!
We think you are going to be very impressed. 🙂

---
We hope you enjoyed this post on – How Fast Is The Traxxas Slash.
If you have any questions about this post or anything else, please leave a comment below.
If you would like to communicate via email, hit the contact tab in the menu,
Thanks for stopping by and happy off – roading! 🙂
~RC Insiders
P.S. Don't forget to drop by and subscribe to our YouTube channel. We love to do random giveaways to show our appreciation for your support.
See ya soon!