Hey everyone! Today we will be doing a full Traxxas Slash 2WD Review.
When it comes to affordable, durable, adrenaline pumping fun, the Traxxas Slash has become one of our top picks for R/C's in the $200 – $300 range.
In this Traxxas Slash 2WD review, we will take a look at some of the things that have impressed us the most, and try to expose any weaknesses.
The Traxxas Slash is a true hobby grade RC with a full line of replacement and upgrade parts.
So without further ado, let's unpack the Traxxas Slash!
---
Traxxas Slash 2WD Review – Product Overview
The Slash by Traxxas is designed to be an all around fun/racing machine.
Inspired by The Traxxas Off – Road Championship Pro 2WD class, the Slash pushes the limit with full throttle drifts through some of the sharpest turns.
The Slash 2Wd is designed to fly over any surface and soar over just about any jump you can throw in its way.
The 4 wheel independent suspension gives you the stability you need when trying to out – maneuver the competition on your favorite short track, open terrain or right in your own back yard. The suspension has been tuned to give you the real short track pro 2 experience.
The Slash's 1/10 scale body matches perfectly with the scaled tires and waterproof electronics to give you the ultimate, any weather, any terrain experience.
---
Traxxas Slash 2WD Features
Motor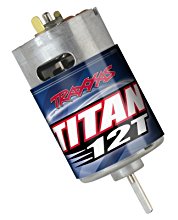 Right out of the box, the Slash features the Titan 12-Turn 550 Modified Motor.
While this is by no means the most powerful motor you can get, it gives you plenty of power to hit speeds of 30 MPH+ right out of the box.
Pushing through deep mud, snow and uphill terrain has proven to be little challenge for us.
Water Proof Electronics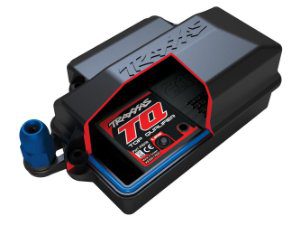 The batteries are sealed in plastic to keep the water out.
Each connection is covered with a sealed plastic connector. When you change out the batteries, you simply slip the cover back over the connection.
I don't suggest you continuously submerge the Slash in water!
We have ran the crap out of this thing and have done so in more water and snow that we probably should have. We have noticed some slight condensation build on the inside of the battery pack.
After bringing them inside and drying them off, the condensation went away.
So far, we have had no electrical problems with the Slash and like I said, we have ran it through a ton of water, mud and snow.
From the battery to the receiver, the Traxxas Slash is about as waterproof as they come.
Controller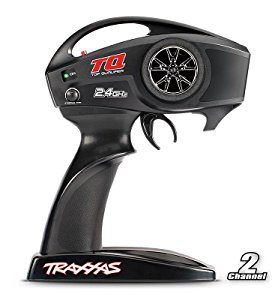 The Slash comes with a true 2.4 GHz precision, hobby grade controller!
The feel of this controller is awesome. The precision at which it operates is even better.
There is no tuning or messing around with syncing. Simply turn the truck on, turn the controller on and pull the trigger. Each controller is synced to it own unit so you can run more than one together in the same area.
The Slash is now at your command!
Batteries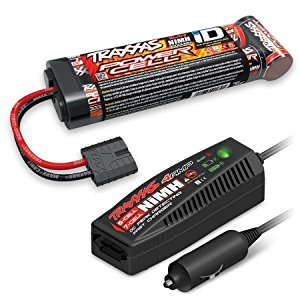 The Slash comes with a fully rechargeable 7 cell NiMH battery pack.
The batteries are complimented with a 12v 4 amp, peak detecting quick charger for use when your out at your favorite spot.
Now here's the breakdown of what we have discovered with the batteries:
Run Time With Full Charge: 20 – 30 minutes
Charge Time In Home: 45 minutes – 1 Hour
Charge Time In Car: 2 – 1 Hour
We did buy an extra battery pack and a charger to use at home.
We alternate the batteries when we get where we're going with the car charger. We can usually get around 4-5 hours of run time with the 2 battery packs and car charger.
Fun, Durable & Versatile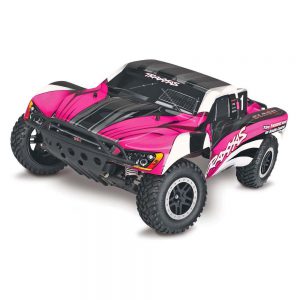 The Traxxas Slash offers tons of up-gradable and interchangeable parts and accessories.
Right from the start, you will have several different body styles to choose from.
We opted for the Gunk body because it just looks so freakin' cool! You can save a few bucks by choosing a different style, all of which look awesome!
After you have gotten used to upgrading from a toy store (This thing is so much better than what you're used to!) type of R/C and have had your Slash for a while, you may decide to upgrade to a more powerful motor or battery.
The huge line of Traxxas upgrades and replacement parts "bolt" right on to your existing vehicle, making upgrades and repairs easy.
The body is made of a high strength plastic that has really taken a beating with tons of roll-overs and high speed crashes.
Does it have some scuff marks?
Yep..It sure does and it looks even more beautiful than the day we got it!
I like to think of the marks as character that just adds to the awesome look that the Slash presents.
When I say the Traxxas Slash is durable, I'm mean it.
We have all taken our turns doing our worse with this thing and it just keeps on ticking.


Proven
Time after time and crash after crash, the Slash continues to run just as good as the day we got it.
There was one particular crash involving a curb and a top speed run where we thought we had finally lost it.
After the massive collision and multi flip crash, we heard a ominous grinding sound coming from the rear of the vehicle. Panic mode set in quickly!
Turns out that the spur gear has a tension adjusting slide screw that allows you to make adjustments as things loosen over time.
We re – tightened the spur gear up against the pinion gear, turned it back over and hit the throttle…Off she went!
Range
On a fully charged battery and new batteries in the controller, we were able to get just over 500′ before we experienced any lag in response.
At about 550′ 600′ we lost all control.
550′ in a remote control truck is absolutely awesome! Think about the range you get from an R/C you pick up at your local toy store. If you're lucky, you might get 50 – 100′.
This range makes racing the Slash at a track a breeze.
Traxxas Slash Review – Any Drawbacks?
The Slash leaves very little to complain about!
Since this is a review, I need to find something, so here goes.
Having a regular 110v wall charger is something I consider vital to an R/C enthusiast. When I walk out the door, I want to have as much juice as possible in my pocket ready to go.
While having the car charger is great for keeping the fun going while your out in the field, when you walk back in the house, you want to be able to throw the batteries on the charger so they are ready to go the next time you get the itch.
I know you can pick up a home charger, I just wish it would come with it.
Traxxas Slash Review – The Bottom Line
We all have a budget.
If you're like me, you can't just call up Amazon and have them send you the most expensive R/C truck they have.
In my opinion, the Traxxas Slash is one of the best R/C vehicles you can buy for the money.
With a full line of replacement parts, top notch speed and capabilities in it's class, the Slash is easily one of our top recommendations in the $200 – $300 range.
From the moment you take the Slash out of the box and pull the trigger, you are going to know that you have purchased a top quality R/C that promises tons of fun!
---
We hope you enjoyed this Traxxas Slash 2WD Review. If you have any questions, please leave a comment below and we will get back with you right away.
If you would like to communicate via email, just hit the contact tab in the top menu.
Thanks for stopping by and happy off-roading! 🙂