Been looking for a Redcat Racing Volcano EPX 4×4 Review?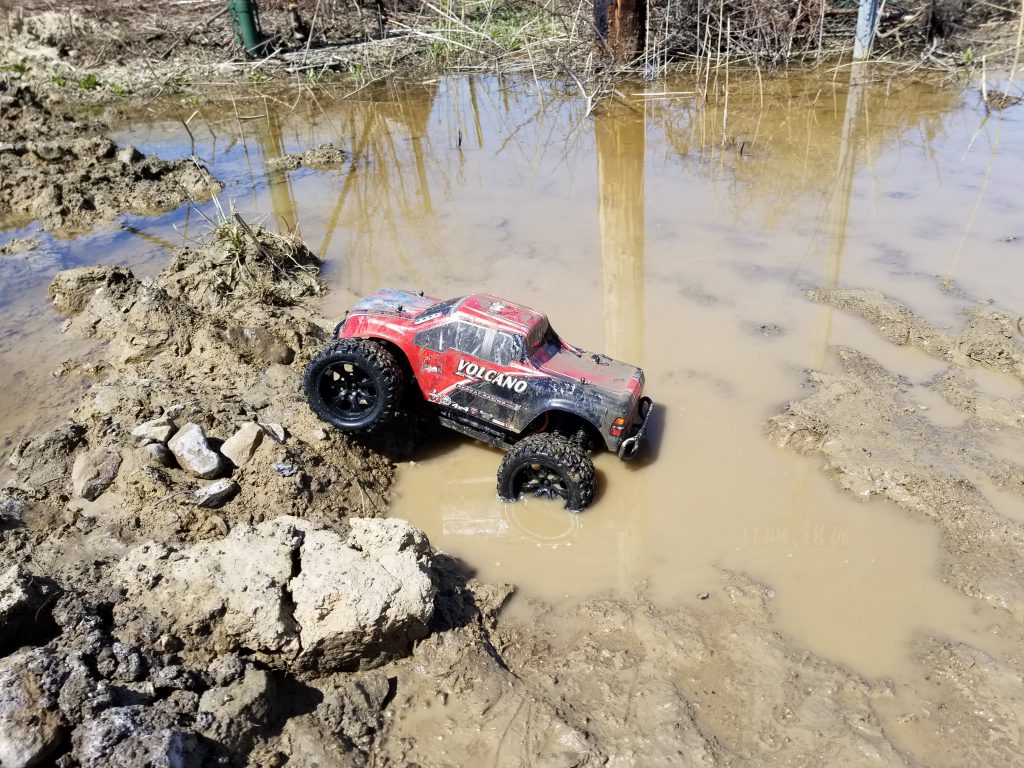 If you've been on the fence about getting the Redcat Racing Volcano EPX, we think this review will show you why you should come down and take the leap.
We have been running the crap out of this monster truck and we are very happy to report that the Volcano is still running just as strong as the day we took it out of the box!
We have put the Volcano through as much snow, mud and water as any other RC we have reviewed and it has performed as well or better than any other RC in its class.
In this review, we will take a look at some of the features this truck has to offer and see if it holds up to Redcat's claims.
So without further ado, let's pop the hood and kick the tires in this Redcat Racing Volcano EPX 4×4 review!
And of course we have added a video at the end of the post! 🙂
---
Redcat Racing EPX 4×4 Review – Product Overview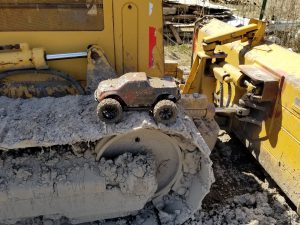 The EPX Volcano 4×4 is a hobby grade RC monster truck that is designed to perform in any weather and any terrain.
The Volcano is a 1/10 scale RC truck that easily bashes through varying terrains that leaves many other RC's struggling and it's ready to run right out of the box.
The Volcano is not the fastest RC you can get, but it is definitely one of the most capable off road RC vehicles you can get in this price range.
The four wheel independent suspension and oversized monster tires provide great traction and stability over uneven surfaces, jumps and mud pits.
While not the fastest, it does turn in a respectable 18 – 22 mph when running wide open on flat surfaces.
The EPX Volcano is a four wheel drive RC vehicle.
We have some very capable vehicles in our arsenal and the Volcano out – performs nearly all of our 2 wheel drive vehicles right out of the box.
---
Redcat Racing Volcano EPX 4×4 Features
Motor
The Volcano EPX 4×4 comes standard with an electric brushed 27 tooth, 540 motor.
While this motor does leave plenty of room for upgrades if you wish, the motor it comes with has provided plenty of power for the off –  road bashing we have put it through.
The motor is encased with a finned metal cover to help prevent damage in crashes.
The motor is still running strong after months of bashing through mud, snow, water and anything else we could think of to put it through.
Waterproof Electronics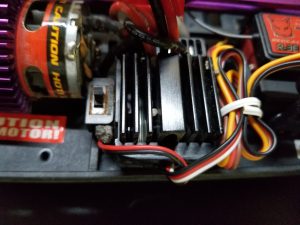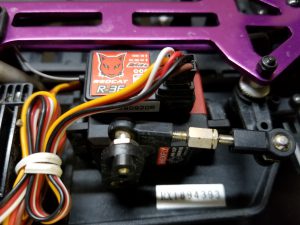 Just as you will find in most hobby grade RC ground vehicles, the batteries and electronics are waterproof.
The steering servo, electronic speed control and receiver are all sealed so you can take the Volcano off – road with confidence.
As you will see in the video, we have had this RC completely submerged in some deep mud and water and it has kept right on bashing!
Now let me be clear…The Volcano is an RC truck, not a boat or submarine.
While it is waterproof, you should not keep it submerged in water.
Bashing through the mud: YES
Driving it like a sub: NO
Batteries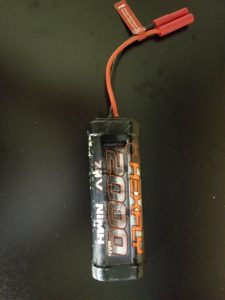 The Volcano comes with a 7.2V, 2000mAh NiMh battery and charger.
The battery is encased in plastic and waterproof.
Here's the breakdown on the battery: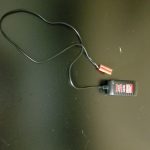 Initial Charge Time: 2.5 Hrs
Subsequent Charge Time: 1.5 – 2 Hrs
Run Time: 12 – 15 Minutes
The run time may seem a little short, but that was running all out in the mud and open spaces.
The 4 wheel drive does put extra drain on a battery as well, but the trade off is you you get a true hobby grade 4 wheel drive monster truck!
Redcat Racing batteries are interchangeable, so you can use other batteries you have laying around.
Controller
The Volcano comes with a true hobby grade 2.4 GHz precision controller.
The feel of the controller is very comfortable with full function, brakes and reverse.
The controller is synced to its own truck so you will have no problem running multiple units in the same area.
It also has some unique features found in much pricier RC vehicles like steering reverse, throttle reverse, throttle trim and steering dual rate.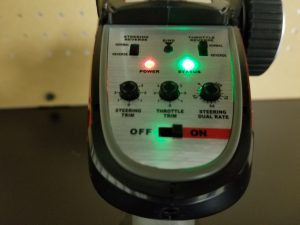 All in all, we would classify it as a top quality controller.
Durability
As we mentioned earlier, we have really put the Volcano through some of the most challenging scenarios.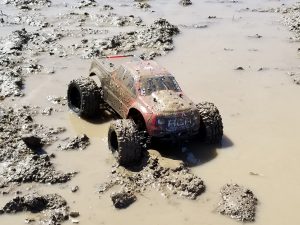 We have wrecked it, jumped it, rolled it and submerged it.
Time after time, we bring it home, wash it up and charge the batteries and time after time it keeps on impressing us.
We have tested many RC vehicles and the Volcano has lasted just as long as RC's costing much more, without any repairs so far.
Suspension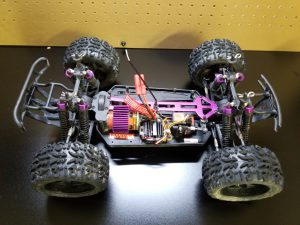 The suspension on this truck features 4 wheel independence that allows you to crawl over just about any terrain.
Each wheel features 2 oil fill, aluminum capped shocks that provide a stable ride off – road and a nice smooth ride on flat surfaces.
Range
Redcat says the expected range on the Volcano should be around 100 yards.
However, with a freshly charged battery in the truck and new batteries in the controller, we were easily able to top the 400′ range and didn't completely lose control until around the 500′ mark!
This is an extremely impressive range for an RC in this price range.
Any Drawbacks With The Volcano EPX?
As we mentioned earlier, the run time on the batteries can be a little short.
This is due to the awesome power and versatility provided by the four wheel drive capabilities the Volcano gives you.
Redcat offers plenty of upgrades, so you can upgrade the battery or pick up an extra to extend the fun.
We feel that the added versatility you get with the four wheel drive more than makes up for the shorter run time.
Redcat Racing Volcano EPX 4×4 review – The Bottom Line
At right around $150, we feel the Redcat Racing EPX is the best value you are going to find for a true hobby grade RC vehicle that offers four wheel drive.
We have put the Volcano through the ringer and it has proven itself time and time again.
If you're looking for an RC that you can take out and bash on and off – road, that's waterproof and is very affordable, we have no problem whatsoever recommending that you give the Volcano EPX a try.
We were not disappointed in the least and we know you won't be either!
Just be kind and give the volcano a bath after your bash. 🙂
---
We hope you enjoyed this Redcat Racing Volcano EPX 4×4 Review.
If you have any other questions about this RC or anything else, please leave a comment below or hit the contact tab in the menu and we will get back with you asap.
Thanks for stopping by and happy off – roading!
~RC Insiders