If you're looking for some awesome RC paddle tires for your Traxxas Slash or many other RC's, this Proline Sling Shot Paddle Tire Review is just what you're looking for.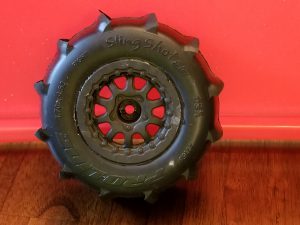 Howdy friends and welcome back to RC Insiders!
With the weather finally starting to break here in the Midwest, we are starting to see a lot more mud and water on our favorite trails.
While this means nothing but more fun, it can also present some traction problems, especially for your 2wd RC vehicles.
We brought the Traxxas Slash 2wd out a couple weeks ago and did a little trail bashing. While we absolutely love this vehicle, we did encounter some traction issues.
So, instead of rebuilding the whole drive line and turning our Slash into a 4×4, we decided to do a little experimenting with some paddle tires.
So without further ado, let's get this Proline Sling Shot Paddle Tire Review going and see how they performed.
We have also included a sweet video at the end of this post with these Proline paddle tires in action!
---
Proline Sling Shot Paddle Tire Review
Our initial observations:
1:
The tires are sweet looking!
They are completely assembled and ready to install. You will not have to worry about gluing the tires to the rim like you do with some paddle tires.
They are very aggressive looking with 1/4″ paddles and the appearance of some really cool looking bead-locks.
2:
We ordered our Proline Slingshot paddle tires from Amazon.
Amazon's description stated that the tires had 10 paddles.
When we opened them up to install them on the Slash, we discovered that the tires actually had 12 paddles.
After a little digging around, we discovered that every description everywhere we looked said 10 paddles.
Anyway, no big deal. 12 paddles are better than 10 anyway!
3:
The tires are made of a nice soft rubber composition that will work great in the sand, mud and snow.
The paddles are deep and aggressive, which will provide the extra traction we're looking for.
What RC's Do These Proline Sling Shot Tires Fit?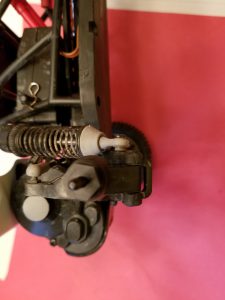 These Proline paddle tires fit any RC that has a 12mm hex style hub.
In the picture above, you can see the wheel hub on our Redcat Racing Cylone XB10.


Just take the wheel off that you want to put the paddle tires on and measure to make sure your hub is hex, and that the diameter measures 12 millimeters and you are good to go.
If you're looking to put them on an RC without a hex hub, like a Traxxas Bandit, you will need to install a hex conversion kit.
How Do The Proline Paddle Tires Look On The Traxxas Slash?
AWESOME!!!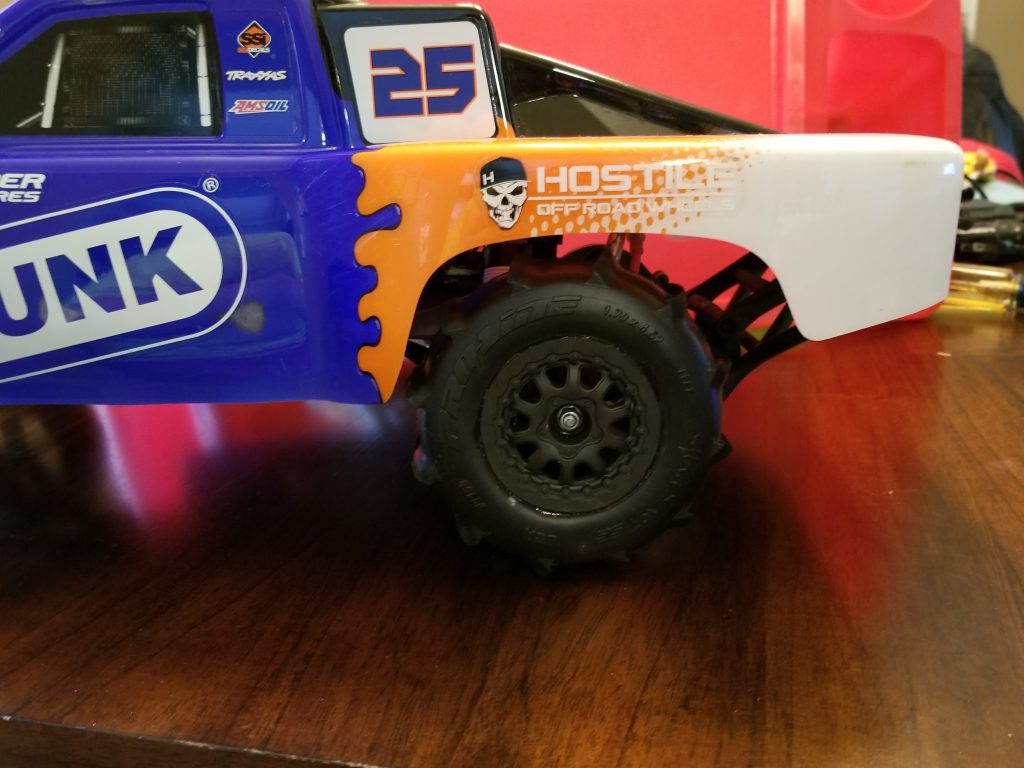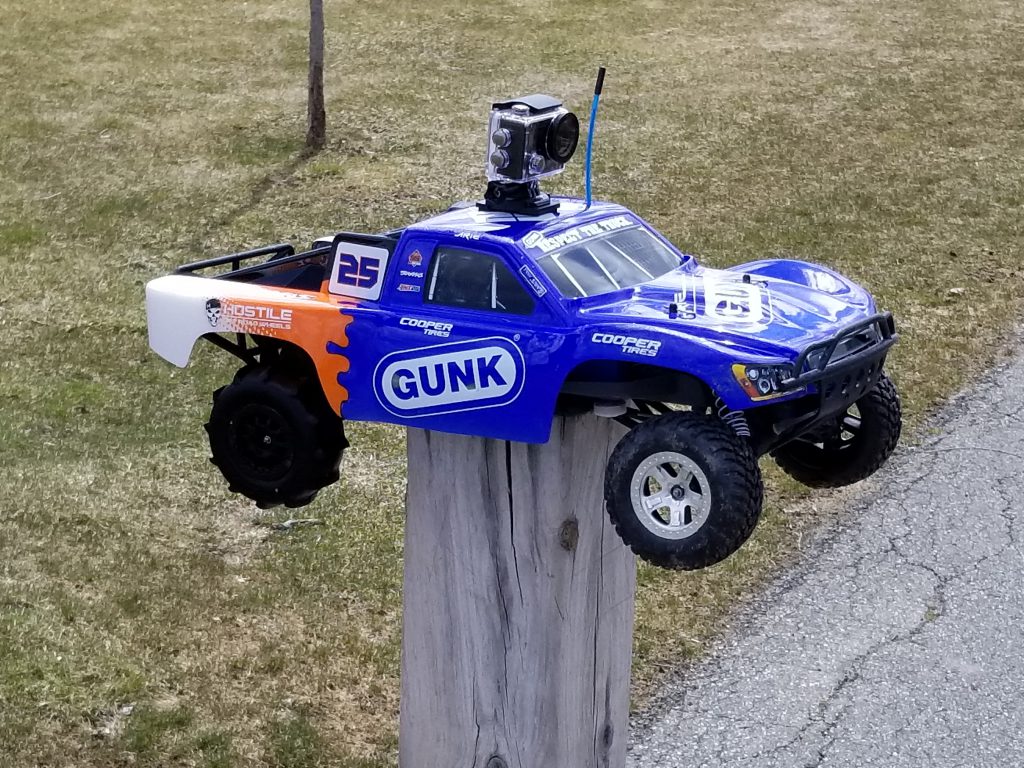 The Proline Sling Shot paddle tires are about 1/4″ taller than the original Slash tires, which gives it an even tougher looking stance.
The all black tires and rims look absolutely sweet!
How Did The Proline Sling Shot Tires Perform?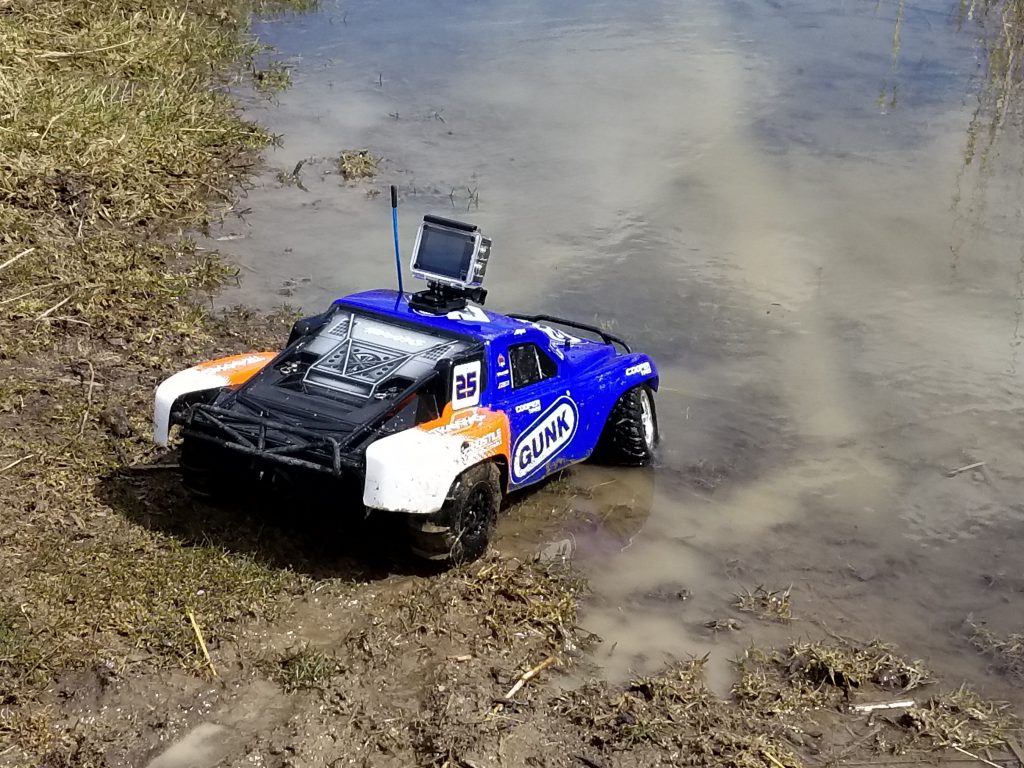 As we mentioned earlier in the post, we did encounter some traction issues in the deep mud.
This Slash is not a 4×4, but we are are very impressed with the way it handles most terrains.
What we discovered is that by adding these Proline paddle tires, we were able to get through a lot of the deeper mud and water that we struggled with when running the original tires.
Traction in the snow and sand also saw great improvements with the Proline paddle tires.
Any Drawbacks?
If we had to get picky and find something to complain about with the Proline Sling Shot paddle tire, it would have to be the fact that you have to change the tires when you get back to on-road RC mode.
The rubber on the paddles is just a little too soft for on-road use and will ware out quickly if you're just running on hard surfaces like concrete and asphalt.
I'm not saying you have to carry your RC over sidewalks!
I'm just saying to change back to your other tires if you're just gonna be doing some on-road bashing.
Proline Sling Shot Paddle Tire Review – The Bottom Line!
We think the Proline Sling Shot Paddle Tires are absolutely worth every penny.
We saw a near 100% traction improvement in every off-road terrain we put them through.
After a few months of constant bashing, the tires have held up extremely well!
There are no tears in any of the rubber and the paddles wore so little that the tires still look almost brand new.
If you're looking for a way to improve the traction on your RC car, truck or buggy, we have no problem at all recommending you try the Proline Sling Shot Paddle Tires.
---
We hope you enjoyed this Proline Sling Shot Paddle Tire Review.
We are very impressed with the traction gains and the absolute awesome look they add to your RC.
If you have any questions about these Proline paddle tires, or anything else, please leave a comment below and we will get back with you right away. You can also contact us via email with the contact tab in the menu.
Thanks for stopping by and have an epic day!
~RC Insiders