Welcome back everyone! Up next is a full Redcat Racing Cyclone XB10 Review.
Update: 10/01/19
Redact Is no longer making the Cyclone XB10. It has been replaced by the Redcat Racing Piranha XTR10. The Piranha Is another super cool RC from Redcat. We have already done a full review of the Piranha.
Update: 1/o6/19 – Best Buy Is No Longer Carrying The XB10. We have contacted Redcat Racing and they assured us they will still be making the XB10 and will notify us as to when and where it will be available for purchase. We will update you the minute we receive any and all info!
In the meantime, please feel free to browse the site for some of the other awesome RC vehicles we have reviewed.
We have taken the Cyclone XB10 out for the first few times and we are very happy to say that we are not disappointed in the least!
As of right now, we have no problem calling the Cyclone XB10 the best RC in the under $200 range.
In this Redcat Racing Cyclone XB10 Review, we will delve into the things we like about it and what we didn't like.
So without further ado, let's kick the tires and pop open the hood on the XB10.
P.S. If you're willing to give up a little speed for some awesome 4×4 off – road capabilities for around the same price, don't forget to Check Out Our Redcat Racing Volcano EPX 4×4 Review before you go. 🙂
---
Redcat Racing Cyclone XB10 Review – Product Overview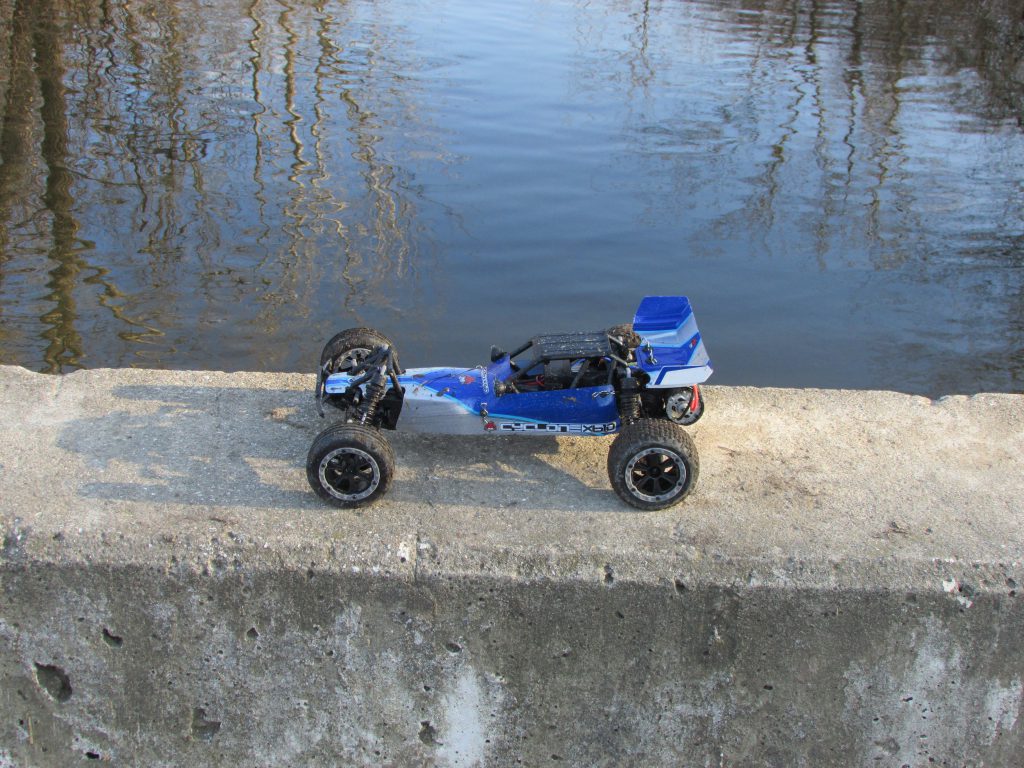 The Cyclone XB10 by Redcat Racing is designed to be an all terrain, any weather RC buggy that delivers hobby grade performance at a price most hobby enthusiasts can afford.
The XB10 cruises nicely over just about every terrain we have drove it over and hasn't shied away from the jumps either.
Four wheel independent suspension with fully adjustable oil filled shocks give the XB10 good control and stability off-road and a nice smooth ride on the road.
The Cyclone XB10 comes ready to run right out of the box with speeds easily topping the 20+ MPH claim stated on the box
So far, the XB10's claim of being waterproof have held true. As you will see in the video at the end of this review, we have already put it through some pretty tough off-roading with plenty of water and mud.
---
Redcat Racing Cyclone XB10 Features
Cyclone XB10 Controller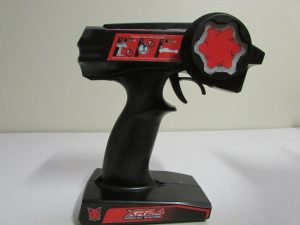 The Cyclone XB10 comes with a nice 2.4 GHz controller.
This is a true hobby grade controller that allows for precision movement and speed control at great distances.
The feel of the controller is very nice with a cushioned wheel for steering. It's not heavy so your arm and hand won't get tired, but it's not light and cheap feeling. Feels like a very well made sturdy controller, with positive stops on the trigger and wheel.
The controller has a trim knob for adjusting minor alignment issues and a nice trigger that has forward, reverse and brakes.
One unique feature is the option button for reverse steering. This allows you to steer the car while in reverse the same way you would when going forward. This freaked me out a little the first time I drove it because it was in reverse mode and I didn't know it!
All in all, the controller for the XB10 is professional and easy to use.
Cyclone XB10 Motor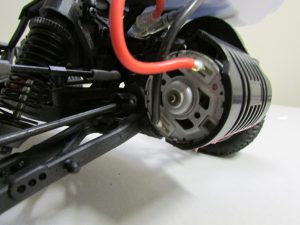 The Cyclone XB10 comes standard with the brushed RC540 motor.
The XB10 leaves plenty of room for upgrades if you want to.
The max battery capability would be 7.2 volt 5800mAH NiMH.
If you want to go LIPO, the max battery would be 7.4 volt 2S 5000mAH 20C.
You can also upgrade to a brush-less motor if you really want to increase top speeds.
But here's what we found:
Right out of the box, the XB10 was hitting 25 MPH with no problem. For an RC that cost right around $150, this is phenomenal speed.
The motor supplied plenty of power for climbing hills and powering down muddy, wet trails.
Cyclone XB10 Batteries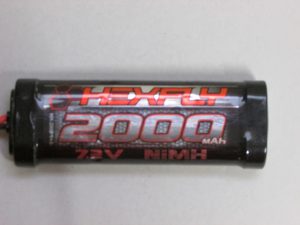 The XB10 comes with 2, fully rechargeable 7.2 volt 2000mAH NiMH batteries!
The batteries come with a 2A fast charger that plugs right into your standard wall outlet. It does not come with a quick charger for the car, but I honestly like having the home charger better if I could only have one or the other.This way I know the batteries are ready to go when I am.
We did pick up a quick charger to keep with us when we're out in the field. This way we can keep the fun going for as long as possible.
Here's the breakdown on what we got from the batteries:
Run Time With Full Charge: 15 – 20 Minutes, Depending On Terrain
Charge Time In Home: 1 – 1.5 Hours
Charge Time In Car: 45 Minutes – 1 Hour
When you get where your going and the first battery runs out, put it on the quick charger and it will be ready to go in about an hour. With the 2 battery packs and car charger, we can usually spend the whole day doing what we love to do…R/C'n!
Cyclone XB10 Waterproof Electronics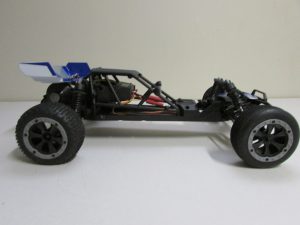 The XB10 comes with a completely waterproof 2 in 1 ESC/Receiver.
Each battery is completely encased and sealed in its own pack.
All the connections form a tight waterproof seal. When you change batteries, be sure to push the connectors completely back together to avoid letting water in.
Now I do not suggest leaving the buggy completely under water! It's not a submarine, it's an off-road buggy. 🙂
We have driven the XB10 through a lot of water, snow and mud with no problems so far.
Do yourself and your buggy a favor. After you get home and wash off all the fun and mud, be kind and at least towel dry it off.
Tough & Fun!
Right out of the box, the Redcat Racing Cyclone XB10 has a real tough look to it.
The stance is mean and low to the ground. The look it gives almost begs you to try and break it!
We have taken turns dishing out some pretty severe punishment and so far the XB10 has held up very well.
At this price range, we really weren't sure what to expect. But the absolute fun we have experienced far exceeded our expectations.
If you're looking for true, affordable, hobby grade fun, then we highly recommend giving the XB10 a try!
Range
One of the first things we did was check out what kind of range we could get out of the XB10.
Here's what we found:
At around 450′ we saw slight hesitation with the controls.
We didn't lose full control until a very impressive 600'+!
This is the type of range we typically find in RC's with a much bigger price tag.
Well done Redcat!
Redcat Racing Cyclone XB10 Review – Any Drawbacks?
We are not complainers by nature.
When we do a review, we feel that it is our responsibility to give you the pros as well as the cons of the vehicle.
When we point out cons, it does not mean we are bashing the vehicle, it means we are giving you the best review we can.
That being said, the XB10 is one of the best RC's under $200 that we have ever seen.
One minor issue we discovered while bashing the XB10 was that the on/off switch would occasionally be moved by brush and weeds running along side the buggy.
It didn't happen often, but we placed a small piece of tape over the switch to prevent it from happening.
If you're not going to be out in the woods, you won't have a problem at all. We just wanted to bring it to your attention so you don't panic if it happens to you. If the buggy quits working, make sure you check the on/off switch first.
Redcat Racing Cyclone XB10 Review – The Bottom Line
For the price of this RC, we were extremely impressed with the performance we got.
If you're looking for the best RC in the under $200 range, we feel that the Cyclone XB10 will leave you with little to be desired.
With speeds of 20+ MPH, 4 wheel independent suspension, oil filled adjustable shocks, awesome off-road capability and 600'+ range, we have no problem recommending the XB10 as our top pick for RC's under $200.
The Redcat Racing Cyclone XB10 is no longer available at Best Buy. We are in contact with Redcat and will give updates asap.
Click the button below for pricing info on other Redcat Racing RC vehicles.
---
---
We hope you enjoyed this Redacat Racing Cyclone XB10 Review.
If you have any questions or concerns, please leave a message below, or hit the contact tab in the menu and we will be more than happy to help.
Thanks for stopping by & happy off-roading!
~R/C Insiders