Hey everyone! Today we will be doing a New Bright RC Review on the VR Jeep Model.
Let's make a few things clear before we get going with this review:
This is not a hobby grade R/C
This R/C is not waterproof
You will not be braking any speed records
You will be getting a "neat" R/C with some cool features
In this New Bright RC review we will highlight some of the things we liked about it and let you know about some of the things we didn't.
Let's take a look at the New Bright VR Jeep!
---
New Bright RC Review – VR Jeep – Product Overview

New Bright has designed the VR R/C Jeep to give you a true "dash cam" driving experience.
The design of the suspension gives the VR Jeep a crawler feel, allowing you to traverse just about any object you put in its path.
Continuous 4 wheel drive propels the Jeep over most dry terrains without much issue.The 4×4 combined with the crawler suspension will not let you get stuck.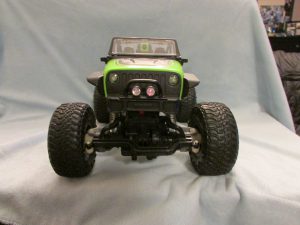 When we try to drive over something that's too big, the 4 wheels will just flip the Jeep over backwards.
It's pretty powerful for a toy grade R/C.
Everything you need to get going is included and ready to go right out of the box.
The Jeep is 1:14 scale, so a little smaller than a shoe box. The tires appear to be more of the 1:10 variety, which gives the stance a tough look with the big tires and small body.
The large tires and high ground clearance really allow the 4×4 to crawl over just about anything.
---
New Bright VR Jeep Features
For a toy grade R/C, the New Bright VR Jeep does have some cool features.
2.4 GHz technology
80′ – 100′ Range
9.6 Volt Lithium Ion Battery
Charger Included
4×4 Super Flex Suspension
Dash Cam For VR
VR Headset For First Person View
WiFi Video Streming
Controller/Receiver /Range
2.4 GHz tech is usually found in more expensive, better equipped R/C's.
This upgrade will allow you to run multiple Jeeps at the same time, in the same area.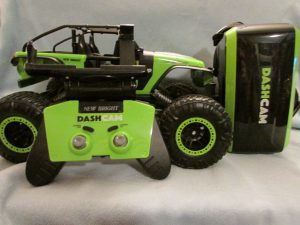 New Bright has expanded the range slightly form your typical toy store R/C to a fairly impressive 80′ – 100′.
At around the 50′ range we started to experience some lag in the controllers response, with total loss coming at around 75′.
This is not bad at all for a toy grade R/C.
Battery/Charger/Speed
The VR Jeep comes with a 9.6 V rechargeable Lithium Ion Battery. The battery gives you plenty of power for what it is. There is plenty of torque and traction to drive over most objects.
During continuous driving, we averaged around 20 – 30 minutes of run time with a fully charged battery, depending on terrain.
The charger included plugs into a standard outlet in your home and completes the charge in approximately 45 minutes.
As I said earlier, you are not going to be setting any speed records with this R/C.
The draw for me was the ability to crawl over objects that I didn't think it could.
We averaged speeds of around 6 – 8 MPH, which is not bad at all for an R/C that is primarily designed as a crawler.
Dash Cam/VR
Using the included VR headset will require that you have a smart device of some kind, such as a smart phone.
You will need to visit your play store and download the dash cam app. We won't go through this process here, but all the instructions come with the Jeep. It's an easy process if you follow the provided instructions.
With the app installed, you will be able to insert your phone into the headset and see what the dash cam sees.
The view is not the greatest quality and can get laggy at times. The view is basically straightforward, so you can't look side to side for a true VR experience.
If you don't like looking through the goggles, you can attach your device to the controller and see what the dash cam sees.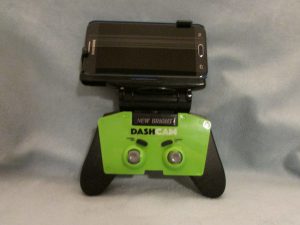 Is it the perfect VR experience?
No.
Is it pretty neat driving your R/C in first person view?
Absolutely.
Just know that this R/C does not come fully ready for you to put on the goggles and start enjoying VR.
You will need a smart phone and you will need to download, install & set up the app.
The max size smart device that will fit the headset is – 6.125"  x  3.25″. The operating system doesn't matter.
New Bright RC Review – VR Jeep – Any Drawbacks?

The New Bright VR RC Jeep doesn't leave a ton of room for me to complain.
Like we talked about in the beginning of this review, this is not a hobby grade R/C and I did not buy it thinking it would compare to hobby grade R/C's.
On a strictly R/C basis, the New Bright Jeep performs  pretty good, all though it is pretty pretty slow.
To me, the VR experience left a lot to be desired. The lag and inability to look side to side was a little disappointing and the WiFi goes out of range before the remote.
But for less than $70, I really can't complain too loudly.
The kids loved it and all in all, we had plenty of fun playing games with the VR headset.
This R/C is not waterproof whatsoever, so you really need to pay attention to the terrain & the weather. One wrong turn into a puddle could ruin your fun for the day.
New Bright RC Review – VR Jeep – The Bottom Line

For the price, we think that you really can't go wrong with the New Bright Virtual Reality RC Jeep.
You get a unique experience with the VR. It might not be the best VR, but it is kind of neat, especially if you've never experienced it before.
The Jeep itself gives you plenty of performance for this type of R/C.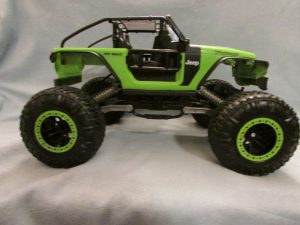 This R/C is geared more towards kids, but offers plenty of fun for the whole family and will make an awesome starter R/C.
If you have a little more room in the budget, I would suggest that you take a look at our #1 recommended "Ready To Run" R/C, the Traxxas Slash.
This is one of our own personal favorite R/C's and we invite you to check out our full review, with video included, by clicking the button below.
We think once you see the Slash in action, you may just forget about VR. 🙂
---
We hope you enjoyed this New Bright RC Review – VR Jeep.
If you have any other questions about this Jeep, or anything else, please leave a message below and we will get back with you a.s.a.p.
You can also contact us via email with the contact tab in the top menu.
Thanks for stopping by & Happy Off-Roading!