Hi friends and welcome back to RC Insiders! Today we will be doing a Rage Spinner Missile 4130 Electric Rocket Review.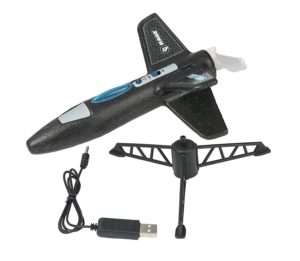 Product: Rage RC Spinner Missile Electric Rocket
Shipping: Free
Best Place To Buy: Amazon.com
Who's It For: All Ages (With Adult Supervision)
---
Rage RC 4130 Spinner Missile Electric Rocket Review – Product Overview
The Rage Spinner Missile Electric Rocket is a "free flight" rocket that comes 100% ready to fly.
Everything you need to take to the skies is included.
When you open the box, you'll see an awesome looking rocket that comes with a pre-installed battery, propeller and launch pad.
The missile is designed to be launched in open, outdoor spaces. You won't need a huge amount of space. We feel comfortable launching from a playground.
If you are getting the rocket for younger kids, supervision is definitely required. Although it is a toy rocket, it does take off with a good amount of force and reaches some pretty high altitude.
The durable foam body allows for constant re launch without sustaining damage. We have thousands of launches under our belt with this rocket and have not damaged it yet! 🙂
The Missile also has LED lights that look super cool as the rocket spins through the air. This looks really cool when its dark out.
Rage Spinner Missile Rocket – The Specifics
Rage Spinner Missile – Specs
Body: Foam
The body is constructed of a strong, long lasting durable foam.
Charger: USB
The included charger plugs into your computer, or any USB outlet.
Propeller: Plastic
We haven't broken it yet, and that's saying something! 🙂
Height: 5 – 5/8″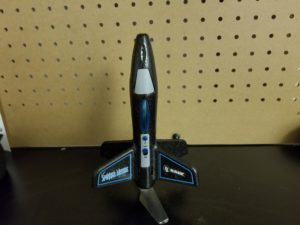 Not too big, not too small. The size of the rocket makes it enjoyable for all ages.
Weight: 0.67 oz
The weight of the rocket allows the propeller to easily push the rocket 50 feet or more into the air.
2 Launch Modes: High & Low
Set the switch to low to keep it at 30′ & high to fly into the 50's.
Battery: 3.7V 80Mah LIPo
Charge it up for 20 minutes and enjoy 40+ fun filled launches.
Who Is The Rage Spinner Missile For?
As always, I say you know your own kid and will make the decision on when you think they are ready to launch the rocket solo.
The manufacturer recommended age is 16 to operate the rocket without supervision.
Rage Spinner Missile Electric Rocket Review – The Bottom Line
We have thoroughly enjoyed our time with the Rage Spinner Missile.
As I said earlier, we have launched the rocket well over a thousand times and have not managed to break it yet.
It is a free flight missile, so once launched, you will not be able to control it. After all these launches, our rocket still launches fairly straight up.
As long as you get it pretty plumb on the launch pad, it will launch true.
Charging the rocket is quick and easy with the included charger. A single charge offers plenty of fun time at the park. It quickly draws the attention of the kids.
At right around 20 bucks, we feel the Rage Spinner Missile Electric Rocket offers plenty of cool features and fun to give it our recommendation and a big thumbs up.
---
We hope you enjoyed our Rage RC 4130 Spinner Missile Electric Rocket Review. It would definitely make a great birthday, Christmas or anytime gift.
If you have any questions about the Rage Spinner Missile or anything else, please leave a comment below and we will get back to you asap.
You may also contact us via email with the contact tab in the menu.
Thanks for stopping by & happy flying! 🙂
~RC Insiders