If you've been searching the net for a Sharper Image Street Thrasher Review, you have landed in just the right place.
Howdy friends and welcome back to R/C Insiders!
In today's post we will be doing a full Sharper Image Street Thrasher Review.
Before we get started, there are a few things you need to know about the Street Thrasher:
This RC is not waterproof
This is not a hobby grade RC
You will not find parts/upgrades at your local hobby shop
You will get a fun "beginners" grade RC
In this Street Thrasher review, we will have a look at what we liked about it and what we didn't like.
We know this is not a hobby grade RC, so we will not be comparing it to an RC like the Traxxas Slash, or a Redcat Racing Gen8.
If you have a little more in the budget & would like to upgrade to an awesome hobby grade RC, please check out our Redcat Racing Piranha Truggy Review
Wanna check out tons of other awesome RC's, boats & drones in action?
So without further ado, let's get this Sharper Image Street Thrasher review started!
---
Sharper Image Street Thrasher – Product Overview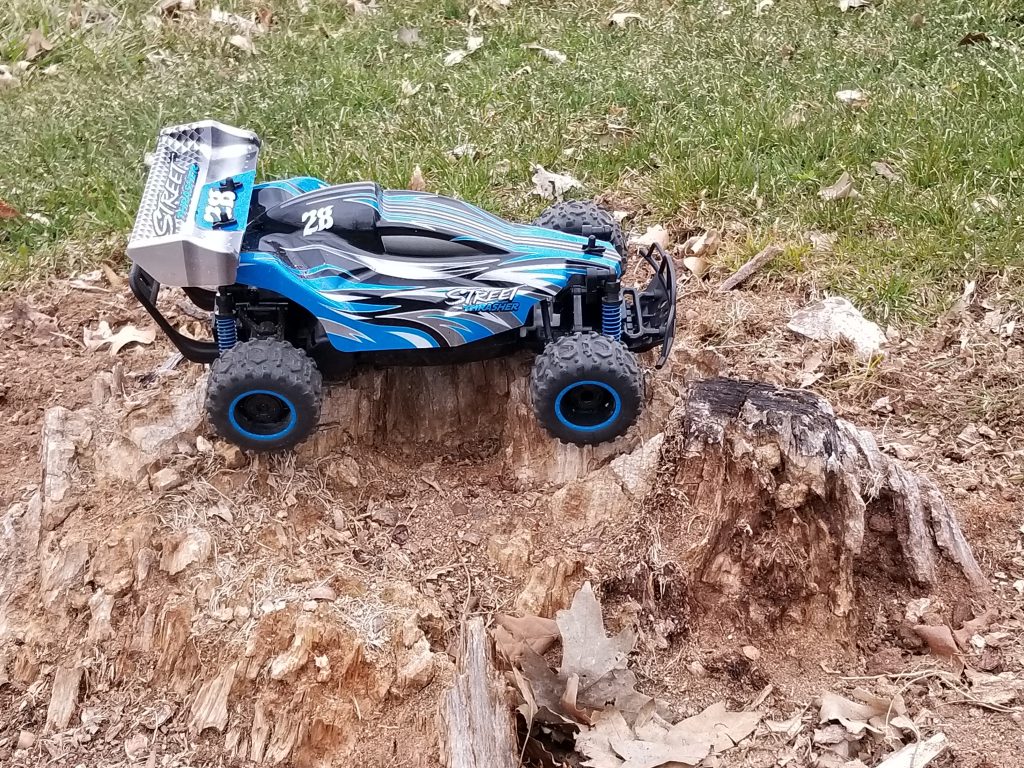 The Sharper Image Street Thrasher is a 1/14 scale buggy style RC.
It will fit comfortably inside your average sized shoe box.
The Street Thrasher is designed to run on most dry surfaces. It is not waterproof, so you really need to be careful to avoid puddles and mud.
We have ran it in some moist dirt and mulch with no problems. As long as you don't get liquid inside any of the electronics you should be OK.
Street Thrasher Features
While not a hobby grade RC, the Street Thrasher does have some cool features:
12.5 MPH
9.6V Rechargeable Battery
2.4 GHz Controller
Soft Rubber All Terrain Tires
4 Wheel Independent Suspension
Spring Loaded Shocks
Removable Body With Clips
Full Function
Speed
Right from the beginning, one of the things that impressed us the most about the Street Thrasher was take off and top speed.
When you pull the trigger, the Thrasher responds and gets up to speed very nicely, easily topping the 12.5 MPH claim.
Battery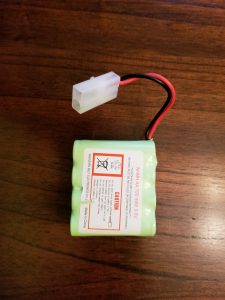 The rechargeable 9.6V, 700mAh Ni-MH battery provides plenty of juice to the Thrasher's motor.
Here's what we found with the batteries:
Charge time: 1 Hour
Run Time: 15 – 25 Minutes, Depending On Terrain
The first charge took about 2 hours to complete. After the initial charge, it charges in an hour or less.
Tires
The knobby tires provide good traction, but not so much that you can't do some awesome donuts in the loose gravel and dirt.
The Thrasher had no problems climbing small hills, or negotiating sharp turns.
Suspension/Body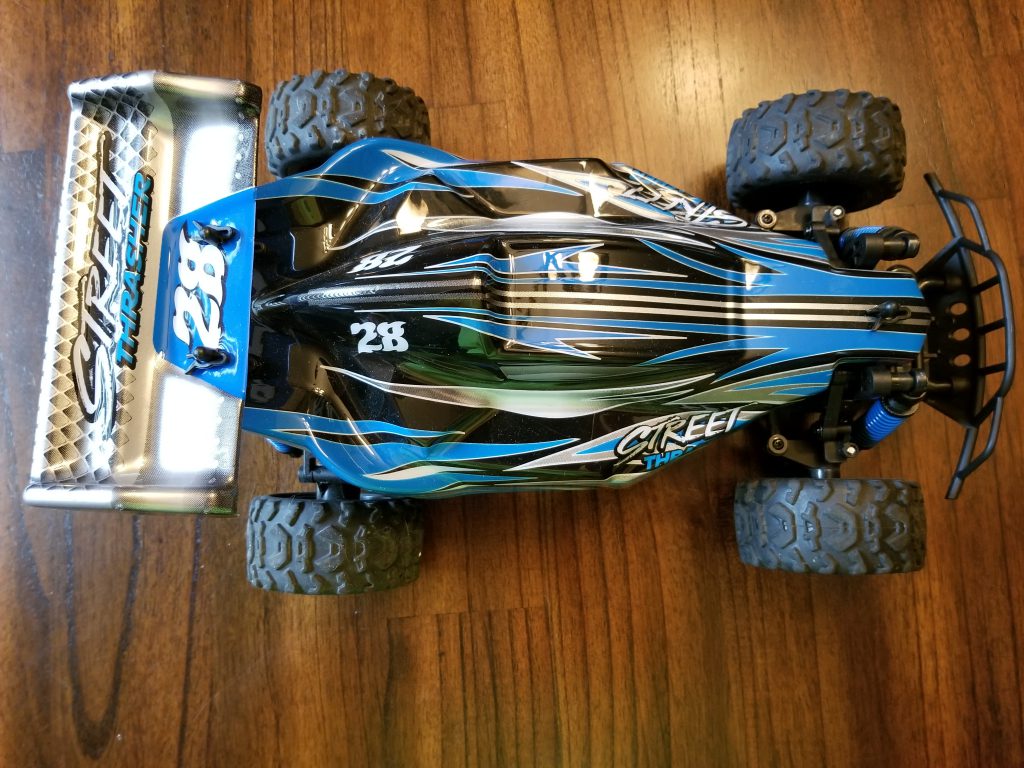 Spring loaded shocks and 4 wheel independent suspension pair up nicely to give good stability on uneven terrain, while keeping the buggy smooth and steady on flat surfaces.
The clips and removable body give the Thrasher a true hobby RC look.
Once the clips and body are removed however, there is not much to do. The clips and removable body are just designed to be aesthetically pleasing. In other words, they serve no purpose except to make the Thrasher look cool…Which they definitely do.
Controller/Range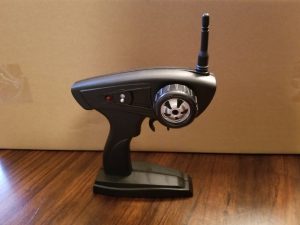 The Street Thrasher comes with a 2.4GHz controller.
While the controller does not give the same quality feel of a Traxxas controller, it still feels pretty good.
The Thrasher is a full function RC with forward, reverse, and left & right in both directions.
You also have throttle control so you don't have to go full speed all the time.
With a fully charged batteries in the buggy and controller, we easily got over 150′ of range before we started to lose function. This is not bad at all for a toy grade RC!
Drawbacks?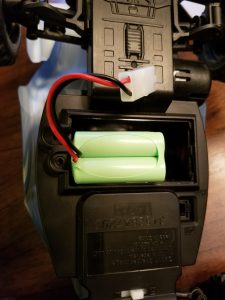 The Street Thrasher from Sharper image is a cool vehicle that leaves little room for complaints.
One thing we will complain about however is the difficulty with putting the battery in the car.
You need to be careful to line the battery up perfectly with the slot inside and wrap the wires inside.
While not a big deal, you will need some practice to get it right.
Just show a little patience and I promise it will fit! 🙂
Sharper Image Street Thrasher Review – The Bottom Line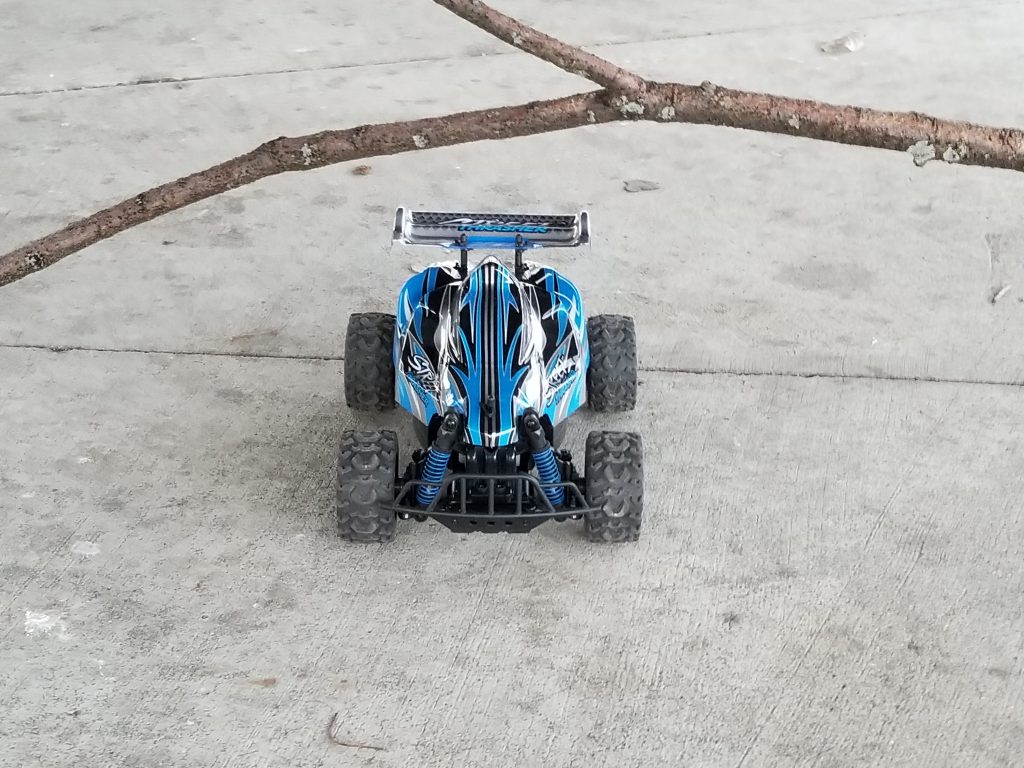 As we said right from the beginning, this is not a hobby grade vehicle.
That being said, we have to say that we were pretty impressed with the performance of the Thrasher.
The Sharper Image Street Thrasher comes completely ready to run right out of the box.
It comes with a 9.6V rechargeable battery, battery charger, and even batteries for the controller.
While you shouldn't expect to take this thing to the track and win races, you can expect to enjoy a little fun time.
We enjoyed the Street Thrasher and we think you will too!

If you have any other questions about this or any other article, please leave a comment below and we will get back with you as soon as possible.
You can also contact us via email by hitting the "contact" tab in the menu.
Thanks for stopping by and happy off-roading!
~RC Insiders